My, it's been awhile! It's full-on summer here in Georgia, and boy, is it HOT!! I've been staying inside, keeping cool, and knitting away!
Here are the Fangorn Forest shorties; Amanda does SUCH a lovely job dyeing yarn! You need to check her out...
http://www.dyeingtofly.blogspot.com/
is her blog, and you can find her instock store online at
http://hyenacart.com/dyeingtofly/
. She does amazing work, and this 3-ply 100% Purewool (merino) is cottony soft and like butter on the knitting needles.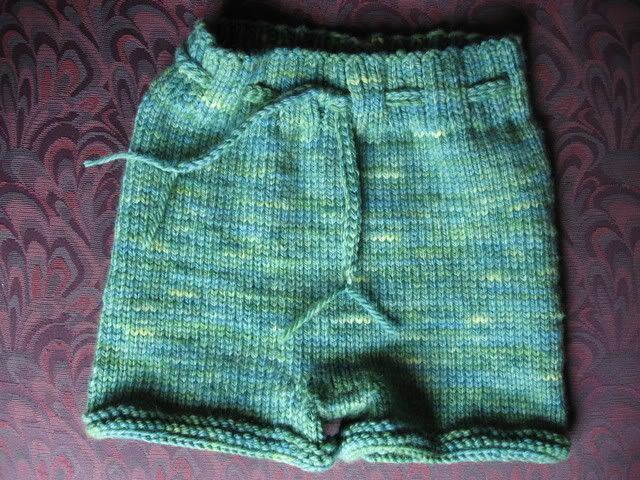 Next, I knitted up shorties in Zenstring's Living Light colorway. This is a little different than the colorway looks now; this yarn was dyed when they were still Cinnamon Stitches, so it's a bit brighter/more vibrant than the colorway tends to be now. Not that the new one isn't beautiful... :) These shorties have a new home on the bum of a friend's little one; he was a bit less endowed in the booty area than Logan, so they fit him much better. I traded Kelley (his mama) for more Living Light yarn; we'll see if I can get the sizing right this time for Logan! I was sad to see them go, but I'm glad they're being enjoyed just as much as they would've been here. Anyhow, pics...
After that came a soaker in bulky BFL, yarn dyed by Lisa of Selah in her "Tomboy" colorway (
http://hyenacart.com/selah/
). Both Julie and Lisa are wonderful dye-mistresses; you should check them out for beautiful, soft, squishy yarns!! And yes, I have a baby boy, and yes, this is pink. I plan to make him a shirt in the gray-blue color, and put on it, "Real Men Wear Pink". This soaker, being bulky BFL, is totally bulletproof; it makes for a great nighttime solution!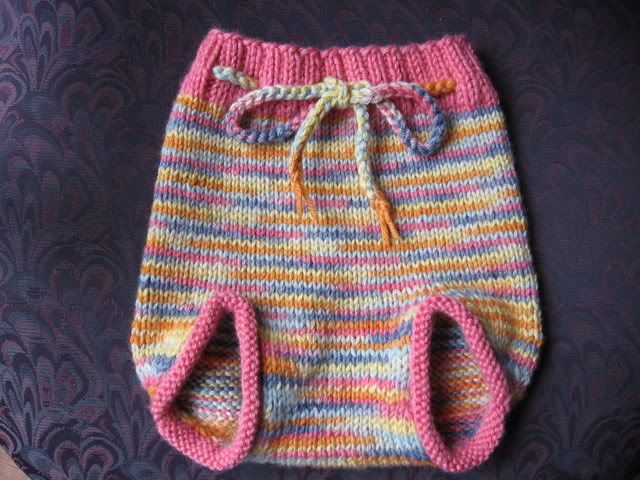 And lastly (the last finished object, anyway; there are two more on the needles at the moment!) another pair of Dyeing to Fly shorties. I dyed the trim for these with Koolaid; these are Amanda's "True Emotions" colorway, and I adore the way they turned out. The color pooled in such neat ways! I am in love with Amanda's yarns...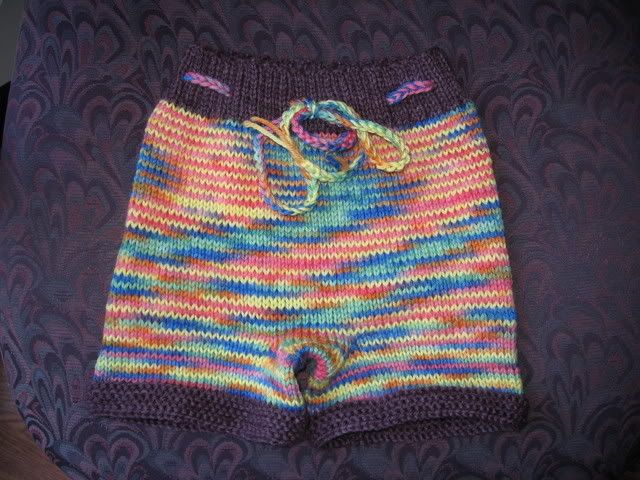 Stay tuned as I continue my knitting journey; to come are much more purewool, Zenstring, Three Irish Girls...maybe even some girly stuff for another friend's little one! Hey, if I can't make girly things for my boy (well, not that many, anyway, and definitely not skirties, LOL), I can make cute girly skirties & things for friends!